What's up
Kick-off ceremony for Lucia & Cenaero's 20th anniversary !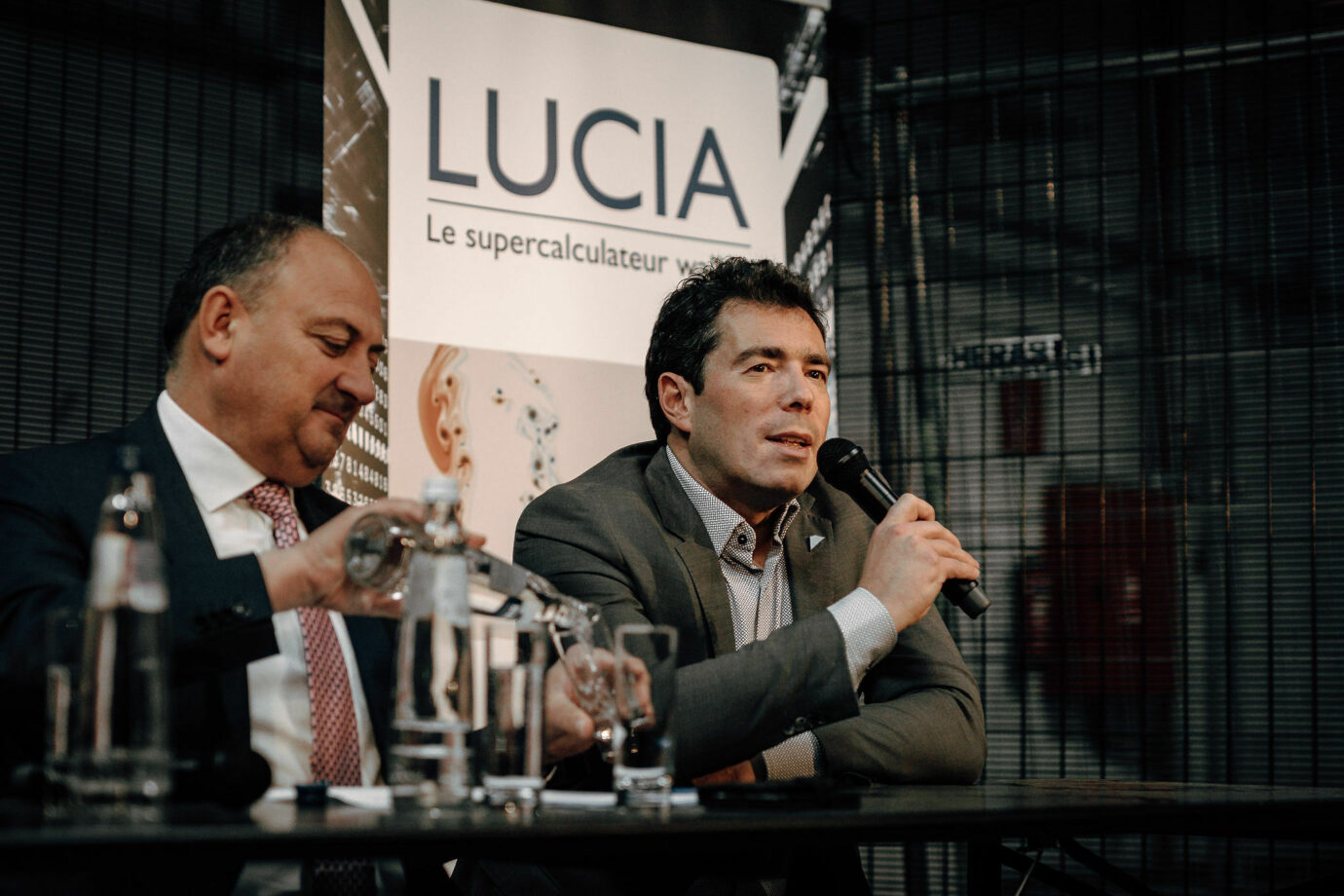 On November 15, 2022 - Minister Willy Borsus and Secretary of State Thomas Dermine attended the inauguration of Lucia (HPC infrastructure) made possible thanks to funding from the Walloon Region.
The new High Performance Computing tool operated by Cenaero and hosted in Charleroi within our ecosystem, will enable the intensification of fundamental and applied research activities.
In April 2020, the Walloon government decided to grant a budget of 10 million euros to Cenaero for the adaptation of the building and the acquisition of the supercomputer. Thanks to this new equipment, Wallonia intends to strengthen and consolidate its leadership in High Performance Computing and artificial intelligence.
"This is the realization of an important project that will allow Walloon companies to benefit directly from such advanced technology. Tools such as the Lucia supercomputer combine high-performance computing and digital simulation. I am delighted that our companies, our researchers and our universities will be able to benefit from such an investment for our Region. It is essential to increase our competitiveness through innovation and the Lucia supercomputer is an additional asset in this respect" Willy Borsus, Minister and Vice-President of the Walloon Government.
Followed by the press conference, we organized a kick ceremony to celebrate the new infrastructure. The conference, moderated by Hakima Darhmouch, hosted various panels of discussions.
Why HPC is important for Wallonia - How does the Walloon government support it? Why are technological facilities important for Belgium? How does Walloon HPC fit into the European vision?

Willy Borsus - Vice-President of the Walloon government, Minister of Economy, Foreign Trade, Research and Innovation, Spatial Planning and Agriculture
Thomas Dermine - Belgian Secretary of State for Economic Recovery and Strategic Investments
Gustav Kalbe - Head of Unit - High Performance Computing and Quantum Technologies at the European Commission & Director of Digital Excellence and Scientific Infrastructures
PC as catalyst of the Walloon triple helix innovation model!

Benoit Hucq, Director General, Agence du Numérique; Program Manager of the "Digital Wallonia" strategy
Clarisse Ramakers, General Manager, Agoria Wallonie
Philippe Chatelain, Professor, UCLouvain
Philippe Geuzaine, General Manager, Cenaero
Cenaero 20th Anniversary : History & perspectives

Michel Milecan, Former President, Cenaero
Jean-François Cortequisse, President, Cenaero
Together [and empowered by HPC], let's shape the future of technology 🚀